VOLCANIC FIZZ – The Infernal Trickster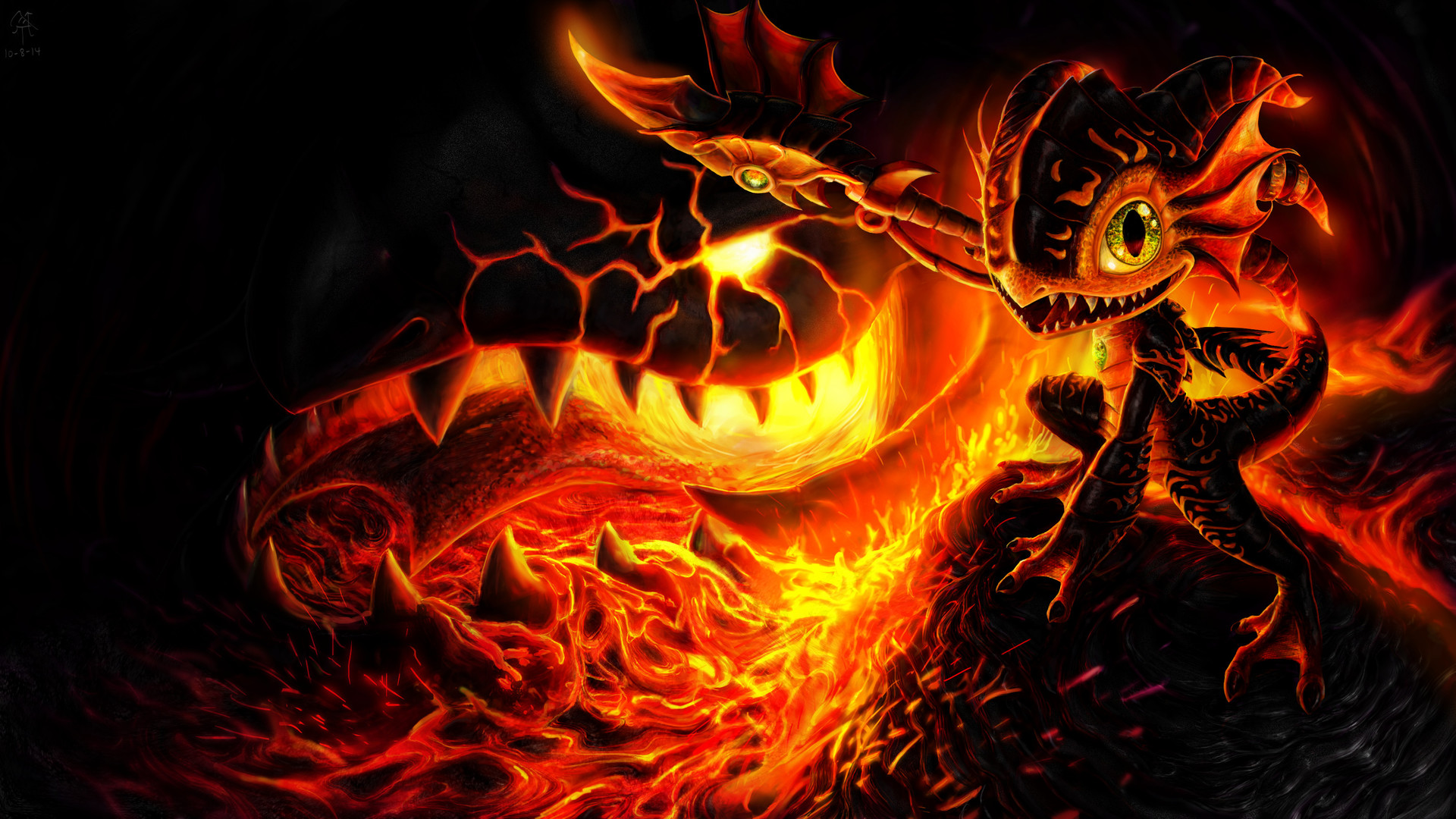 INTRODUCING VOLCANIC FIZZ

"The
AMAZING

concept is now the

AMAZING

skin!"
🔥Info:
The Volcanic Fizz model back in 2015 was first created by Justin "Jragon" Ethington, a talented digital artist. It was a really cool concept skin. Every feature of Fizz was modeled in great details, but sadly it wasn't available as a playable custom skin nor as a playable in-game skin by Riot.
In 2016, as a Fizz main (one trick) who discovered this skin concept, I decided to email Jragon for requesting the model so that another talented custom skin maker can turn this model into a playable custom skin. Due to personal reasons, Jragon declined my request. I did not give up.
In mid-2017, I decided to email him again. Finally, the request was accepted! Now I have to find a talented custom skin maker, and through fate, a very talented Chinese skin maker, Ckyel turned up.
He was able to transfer 100% from the original model to in-game model without compressions (quality loss) made. The in-game model looked exactly like how it looked like as a 3D model, even its long dragon tail is nicely animated. Plus, he even added lava-like particles almost the same as listed in the skin idea, all by his own!
Ckyel and Jragon are both very talented artists. All thanks to them, the Volcanic Fizz skin is now finally available as playable custom skin! Without either one of them, this custom skin could never be made possible. THANK YOU SO MUCH! BOTH OF YOU GUYZ ROCK!
🔥Model viewer:
🔥Showcase video:

🔥Features:
Ultra High-quality custom

model

for base
Volcanic themed custom

loading screen

Lava-like custom

particles

Volcanic themed custom

HUD interface

Equivalent to

Epic Tier quality

custom skin
A WHOLE NEW

VOLCANIC

experience!

🔥

Gallery:
🔥Credits / Source:
People:
Justin "Jragon" Ethington

: The original creator for Volcanic Fizz skin concept and model. Special thanks to his kindness for willing to share the model with Ckyel and me.

Ckyel

: The talented skin maker who transferred the model into an in-game model and added lava-like particles to it.

Myself

: As a 'middleman' who communicates between the original creator and the talented skin maker. Also as a writer and promoter for this post by making videos and designing the post to make sure the skin is published nicely.
Links:
Permission letter:
🔥Ckyel has something to say:



I am the producer for this exquisite theme skin, Volcanic Fizz which was creatively designed and made by Jragon. At the same time, I am a loyal League Of legends fan and also a custom skin maker. I am honored to be the main producer of this work. Through this work, I have learned new skills and techniques at a deeper level. I also made a great friend, LoLittleBoy. During the process of making the skin with LoLittleBoy's help, the task was smoothly accomplished. At the same time, the quality of this skin was very awesome. Here, I am very grateful to the design creator, Jragon for the trust and support given. The achievement of this skin could not have been possible without his trust and support. I hope that everyone would like this skin. If you find any bugs or problems, please comment below. I will try to fix it as soon as possible.
Thank you Mapskins, Thanks everyone!
-Translated by LoLittleBoy
Original text in Chinese:
我是本次自制皮肤 (Fizz Volcanic)由Jragon创意开发设计的一款精美的主题皮肤Fizz Volcanic的制作人,同时是一位LOL的忠实粉丝,也是自制皮肤作者。很荣幸能够担任这次工作的主要制作人,这也让我更深层次学习新的技术与方法,结交了非常要好的朋友(LoLittleBoy)本次开发工作跟随LoLittleBoy的帮助顺利的完成了这次的任务,同时皮肤的质量也表现的非常完美。在此我非常感谢设计作者Jragon的信任和全力支持,才有了现在的成就,非常感谢,同时也希望大家能够喜欢这个皮肤,有任何问题或者BUG请留言,会第一时间进行优化修复。感谢大家,感谢mapskins,Thank
🔥LoLittleBoy also has something to say:



First and foremost, I would like to thank Justin "Jragon" Ethington for willing to share the model with me. I am really, truly grateful of that. Without the models, the custom skin could never be made possible. Thank you for trusting in me. Secondly, I would like to thank Ckyel for the works he had done. I know there are lots of other custom skin makers that can make Volcanic Fizz playable, but when I first offered the project in MapSkins Discord, only Ckyel turned up to me. There is also another custom skin maker who turned up, but in the end, he was too busy to work on the project. Thus, Ckyel worked on it all by his own. Although he is very talented in making custom skins, he remained humble and patient in listening all my suggestions and opinions given throughout the making of the skin. He also considered me as his great friend, which I truly appreciate it. As in return, I will help him in posting and promoting his custom skins in MapSkins if he ever needed the help in the future. Lastly, I would like to thank the Editor of Mapskins for approving this post. Thanks to your approval, this great skin can finally be available to the public and let many Fizz lovers able have fun with this skin. As for the public, comments are absolutely welcomed. Feel free to leave a comment about your thoughts, questions or bugs occured in this skin. And… Enjoy!

🔥General Info:

Author: Ckyel & Jragon
Size: 7.8 Mb
Version: 1.3
Release Date: 28th of August 2017
🔥Download and Install:
You can install this skin with Wooxy
1. Download Volcanic Fizz.
2. In Wooxy, click "Skins" > "Import skin" > "Add package" and select the downloaded file.
3. Your skin is now imported in Wooxy, you can install it by selecting it in the list and clicking "Install".
🔥Mini FAQ:
Why did you post it instead of Ckyel himself?
Because first, he is not familiar with MapSkins posting. Secondly, he is not good in English as he came from the Chinese custom skin community. I am good in both Chinese and English, and was familiar with MapSkins posting too. That's why, I am doing the posting for him. With that, he can focus on doing what he's best at without having to spend extra time on posting. In the future, you may expect to see me posting for Ckyel. Of course, the credits go to him.
Why do you consider Volcanic Fizz as the best custom skin for Fizz?
Because in my opinion, when comparing with all the custom skins Fizz had, many of their models aren't original. Some come from other Riot-made skins (example: Void Fizz, Super Galaxy Fizz). Some do have their original models with original ideas (example: Skeleton Fizz, Mecha Fizz), but their models aren't as high quality as this one. Moreover, most of them don't have their original custom made particles (simple recoloring doesn't count) that Volcanic Fizz has. To point out a few, you can notice Volcanic Fizz's W Seastone Trident active is very different from all other skins. Instead of a recolored glowing trident, a special burning flame was used. Another one is Q Urchin Strike. The flame-like trail is totally original and did not come from Riot-made Fizz skins. Original model (thanks to Jragon) and original particles (thanks to Ckyel), plus it all looked gorgeous, this is why I think that Volcanic Fizz is the greatest custom skin ever made for

Fizz

.
Feel free to comment about your thoughts too!
Wow, this is such a cool skin! Can I make videos about this skin?
Sure! Do make sure you credit the creator and the skin maker in your videos ;)nn